Train4sure Questions & Answers (Testing Engine)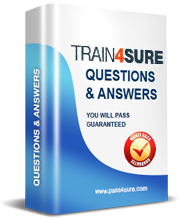 Train4sure Questions & Answers, also known as Train4sure Testing Engine, gives you the benefit of interactive exam preparation as this software provides a realistic simulation of exam environment. This smooth software contains real exam questions and expert-verified answers, so you practice with the exact content that you need to learn.
With Train4sure Questions & Answers, You Will Benefit From:
Real exam questions - Guaranteed!
Verified answers;
Solid refund policy if you fail your exam;
Regular updates, included in the price;
Cutting edge eLearning solution.
Train4sure guarantees that all questions and answers in your Testing Engine are real and have been taken from the most updated versions of your requested exam. Every answer is checked and verified by IT trainers and industry professionals, so you get a learning solution that you can fully trust.
Train4sure Questions & Answers
Satisfaction Guarantee

At Train4sure, we are so confident in the quality of our products that we GUARANTEE that you'll pass your exams with our training materials. If not - we'll exchange your exam!

Why Train4sure?
Train4sure was created with the mission to provide learners with top-notch exam preparation materials. Since then, we have remained faithful to this promise, earning the trust of over 121,487 customers worldwide.

Train4sure Shopping
Security Above All

At Train4sure, we take your online security seriously. All our purchases are secured by McAfee Incorporated that follows the proven best advanced 256-bit Secure Socket Layer (SSL) Standard. You may rest assured that while your credit card information is 100% protected at all times..



Need help assistance? Contact us!