Train4sure Reseller Program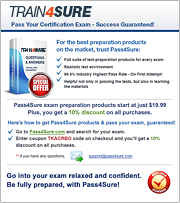 Attention! Train4sure is looking for its Mr. Enthusiastic Reseller!
Train4sure Reseller Program is Ideal for candidates looking to sell products in their classes or their colleagues. Resell to your students, friends, and colleagues and earn money!
Get Up to 50% Commission on every sale generated by you. Depends on Volume.
All your customers will automatically get 20% discount.
Real Time Reporting of sales, commissions earned by you.
Sounds good? Don't hesitate to Sign Up today!
Register Now and Start Reselling Train4sure Products
How does it work?
Step1. Sign up to become a reseller.
Step2. Use affiliate links, banners, promo codes to our customers.
Step3. Give that PromoCode to your friends, colleagues, students and they will enjoy instant 20% Discount and you get up to 50% commissions on the payments received. Depending on volume.
Step4. See your sales in our admin area and get paid.

Need help assistance? Contact us!