Train4sure Practical Labs
Train4sure Practical Labs are a great way to prepare for those challenging lab exams. Train4sure Practical Labs are fully based on authentic lab exam scenarios, real questions, current equipment and troubleshooting techniques. All labs have been compiled, reviewed and approved by highly qualified IT professionals.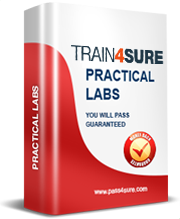 Train4sure Practical Labs take the frustration and confusion out of your lab exam preparation.
These learning tools will make your upcoming lab exam a breeze.
Train4sure Practical Labs Offer:
Efficient hands-on preparation for lab exams;
Real lab scenarios;
Current equipment and configurations;
Instant access and download;
Comprehensive coverage of troubleshooting techniques.
Satisfaction Guarantee

At Train4sure, we are so confident in the quality of our products that we GUARANTEE that you'll pass your exams with our training materials. If not - we'll exchange your exam!

Why Train4sure?
Train4sure was created with the mission to provide learners with top-notch exam preparation materials. Since then, we have remained faithful to this promise, earning the trust of over 121,487 customers worldwide.

Train4sure Shopping
Security Above All

At Train4sure, we take your online security seriously. All our purchases are secured by McAfee Incorporated that follows the proven best advanced 256-bit Secure Socket Layer (SSL) Standard. You may rest assured that while your credit card information is 100% protected at all times..



Need help assistance? Contact us!