PDF Version: 350-401 Questions & Answers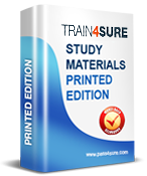 Make every minute of your day count by studying on the go, no matter where you are. To make this easier for you, Train4sure offers the PDF version of 350-401 Questions & Answers.
PDF Version of Questions & Answers is a PDF file of Train4sure Testing Engine. It contains all questions and answers included in your software purchase. Coming in the universally accepted PDF format, the file can be open on nearly any device (just make sure you have a PDF reader app installed).
All Train4sure PDF files come with print-friendly formatting, so you can easily switch to the paper version of your exam as you print out your PDF file.
* PDF Version is an add-on to the main product (350-401 Questions & Answers) and cannot be purchased separately.